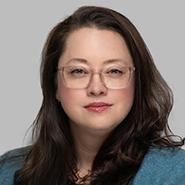 Member Profile
Bodie B. Colwell
(she/her)
Preti Flaherty
One City Center
PO Box 9546
Portland Maine USA, 04112
T: 207-791-3245
Professional Bio:
Bodie practices as an attorney with Preti's Bankruptcy, Creditors' Rights and Business Restructuring group from the Portland office. She focuses on bankruptcy, insolvency, and creditors' rights clients.
Bodie B. Colwell helps banks and businesses recover money owed to them, and represents businesses in financial distress both in and out of court. Bodie recognizes that in restructuring, insolvency, and bankruptcy matters, there are limited resources; she applies practical business insight and keen attention to detail to ensure clients minimize loss and maximize financial recovery.
Bodie represents Chapter 7 trustees of corporate and consumer debtors in the liquidation of assets and litigation matters, buyers of assets in bankruptcy, and distressed health-care businesses in out-of-court workouts and liquidations. Bodie also represents lenders in commercial and consumer matters and creditors in matters involving preference and fraudulent transfer avoidance claims.
Join the IWIRC Community
A world of benefits is just a click away.