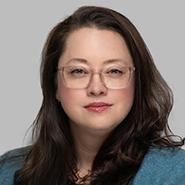 Member Profile
Bodie B. Colwell
Preti Flaherty
One City Center
PO Box 9546
Portland Maine USA, 04112
T: 207-791-3245
Professional Bio:
Bodie practices as an attorney with Preti's Bankruptcy, Creditors' Rights and Business Restructuring group from the Portland office. She focuses on bankruptcy, insolvency, and creditors' rights clients. Bodie serves as the co-chair of the IWIRC New England Network.
Join the IWIRC Community
A world of benefits is just a click away.