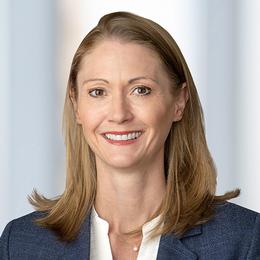 Member Profile
Jennifer B Kimble
Senior Counsel
Eversheds Sutherland (US)
1114 Avenue of the Americas
The Grace Building, 40th Floor
New York NY United States, 10036
T: 2123016598
Professional Bio:
Jennifer is a corporate restructuring attorney with more than a decade of experience representing Chapter 11 debtors, creditors' and retiree committees, Chapter 7 trustees, and other creditors in bankruptcy proceedings, preference actions, commercial transactions, commercial litigation, and out-of-court restructurings. She has extensive experience in all aspects of Chapter 11 cases, including first day motions, noticing issues, negotiating DIP financing, 363 sales, contract assumption, 1113/1114 matters, and plan confirmation and implementation. She is skilled in claims resolution processes and well-versed in post-confirmation trusts and the litigation of Chapter 5 claims.
Jennifer offers proven skill in insolvency-related matters in the automotive industry. She has represented original equipment manufacturers and tiered suppliers in negotiating and resolving contract issues, financial disputes, tooling ownership, and other bankruptcy and litigation actions with manufacturers' sole source suppliers to maintain just-in-time delivery.
A responsive and engaged team player, Jennifer takes the time to understand how each client defines success. She is adept at consolidating details into comprehensive solutions that support client objectives. Jennifer excels at helping companies achieve the best possible outcome during the restructuring process by analyzing and applying bankruptcy law in the context of an insolvency event.
Prior to joining the firm, Jennifer worked with a leading bankruptcy claims and noticing firm and with various commercial law firms.
Jennifer is licensed to practice law in New York, Alabama and Mississippi.
In 2011, Ms. Kimble was named as one of five Semi-Finalists for the inaugural IWIRC Rising Star Award which reognizes professionals with eight or less years experience that have made significant contributions to IWIRC. In 2012, Jennifer Kimble received the IWIRC Rising Star Award.
A native of Hattiesburg, Mississippi, Ms. Kimble graduated summa cum laude from Mississippi State University and magna cum laude from the University of Mississippi School of Law, where she was Associate Articles Editor of the Mississippi Law Journal and served on the Moot Court Board.
Join the IWIRC Community
A world of benefits is just a click away.